firstrand
empowerment
foundation
The FirstRand Empowerment Foundation (FREF) was established in 2005 as part of the FirstRand Broad-Based Black Economic Empowerment (B-BBEE) transaction. The parties to the foundation are FirstRand Limited, FirstRand Bank Limited, Kagiso Charitable Trust, The WDB Trust, WDB Investment Holdings (Proprietary) Limited, Mineworkers Investment Trust and MIC Financial Holdings (Proprietary) Limited. The founding objective was to facilitate the transformation of FirstRand through the acquisition by the BEE beneficiaries of a meaningful equity interest in the group.The objective was amended in the current year to reducing poverty and inequality by undertaking and/or supporting public benefit activities that result in B-BBEE
The majority of trustees are black persons as defined in the Financial Sector Charter.
The B-BBEE transaction vested in 2014, and following its vesting, FREF has a significant unencumbered endowment of FirstRand, MMI and Discovery shares. The dividend income on these shares is used to address poverty, unemployment and inequality through systemic social investments in the education sector. Specifically, FREF's mandate is to provide, promote and fund educational development in relation to disadvantaged South Africans, particularly but not limited to, employed in the financial services industry.
The FirstRand Empowerment Foundation takes a proactive approach to identifying social investment opportunities. The foundation works with potential partners to co-design proposals and initiatives that have clear systemic possibilities. With this in mind, the foundation does not have open calls for proposals.
FirstRand Empowerment Foundation
CSI spend* (education)
(R million)
The foundation's financial year is January – December. The reported CSI number is the audited spend for the previous calendar year.
The significant increase noted from 2016 is due to debt being fully paid up and the full dividend being distributed to the trust for CSI initiatives.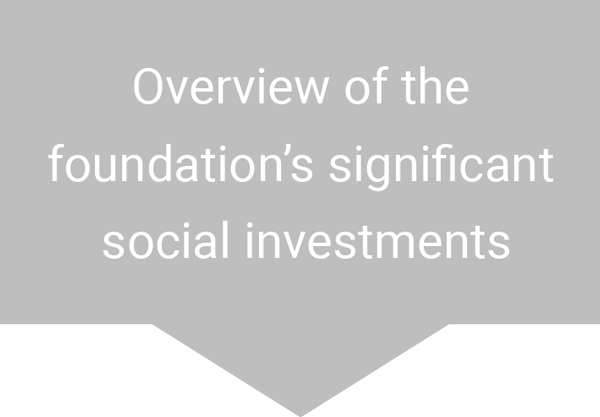 Overview of the foundation's significant social investments
Data-driven
districts
Works in partnership with the Department of Basic Education (DBE) and aims to support improved learner outcomes through the increased quality, availability, analysis and use of education data.
Social investment
HARAMBEE YOUTH EMPLOYMENT ACCELERATOR
Harambee aims to confront the "demand-supply mismatch" in the economy by understanding what entry-level jobs exist in the economy and understanding what behaviours and skills are needed to prepare young people to succeed in the world of work.
Social investment
R25 million per year for five years
PUBLIC SCHOOL PARTNERSHIPS
Public School Partnerships has been initiated by a national donor group interested in pioneering a new model of public school provisioning in South Africa: publicly financed, privately managed schools.
Social investment
Since 2016, FREF has invested almost R40 million in the initiative. The PSP pilot is currently operating in two provinces and 16 schools.
KAGISO SHANDUKA TRUST
The Kagiso Shanduka Trust (KST) aims to support the development of more than 300 schools in the Fezile Dabi and Motheo districts of the Free State, as well as build the capacity of the district itself.
Social investment
NAL'IBALI TRUST
The Nal'ibali Trust is a national reading-for-joy campaign established in 2011. It is built on simple logic: that a well-established culture of reading can be a game-changer for education in South Africa.
Social investment
NATIONAL EDUCATION COLLABORATION TRUST
The National Education Collaboration Trust (NECT) was established in 2013 as a multi-stakeholder body tasked with rolling out education improvement initiatives – in direct partnership with government, business, labour and civil society – to help achieve National Development Plan (NDP) goals.
Social investment
R27 million per year for five years