The FirstRand Foundation was established in 1998 as the legal vehicle through which FirstRand Limited and its major franchises (FNB, RMB and WesBank) direct their individual and collective corporate social investment. From inception, the FirstRand Foundation received 1% of FirstRand Limited's net profit after tax (NPAT).

Legally, there are two disbursing structures – the FirstRand Foundation, through which donations are made to public benefit organisations which do not qualify for section 18A tax deductible status, and the FirstRand Educational Trust, for payments to educational projects and institutions that do qualify. All disbursement decisions are made by the trustees.

FirstRand Foundation's strategy over the past 20 years has been to be the foremost corporate social investor and knowledge collaborator committed to contributing to the development of a better South Africa through mainstreaming disability, capacity building, leveraging partnerships and knowledge sharing. Following a review of its 20-year experience and impact, it is the intention to better align the foundation's work with the group's business strategy.
The FirstRand Foundation celebrated 20 years of CSI in 2019 and to commemorate this milestone the group has published a book that describes the Foundation's work.

FirstRand Foundation CSI spend *(R million)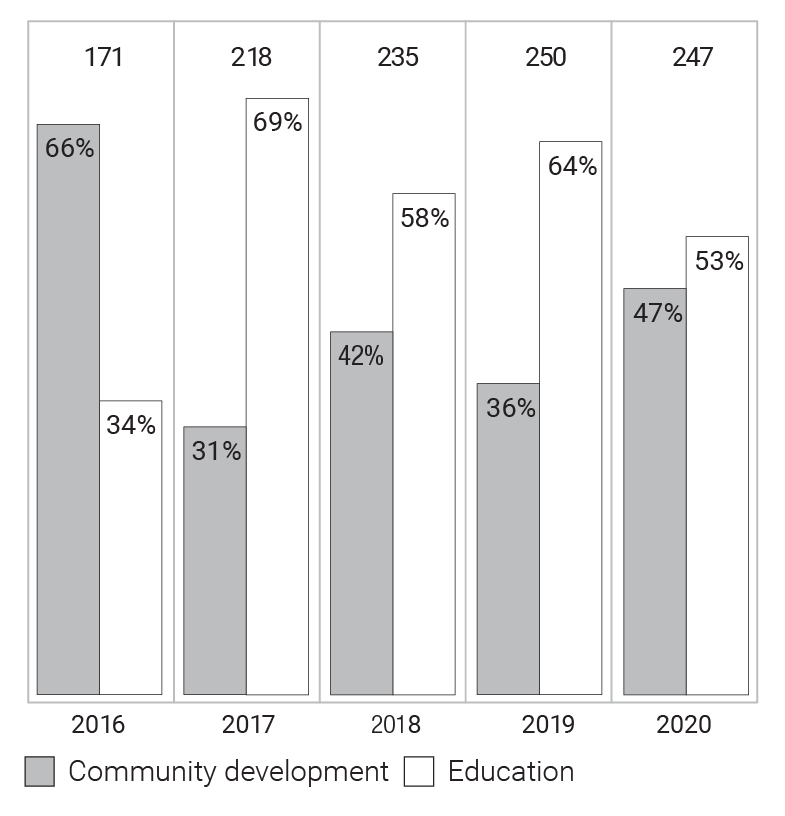 Community development consists of investment in
the creative economy;
the green economy;
food security and agriculture livelihoods;
FirstRand Volunteers programme;
mainstreaming disability;
thought leadership; and
in 2020 community development also included contributions to SPIRE.
* The reported CSI number is the audited, contributed spend for the FirstRand financial year. It is based on 1% of NPAT of FirstRand Limited.